The decorations in the hotel rooms were painted by the artist Giuliana Bonazza.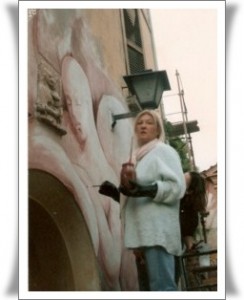 Born in 1949 in Porto Garibaldi, in the province of Ferrara, Giuliana Bonazza attended the Art School and the Fine Arts Academy of Ravenna.
From 1967, the year of the first personal exhibition, he created oils on alcantara, frescoes, sculptures, in reinforced concrete.
His works, permeated by a strong religious feeling, are a hymn to life, that love, joy, gift of God.
Embraced figures, angels descending from the sky, shining eyes are the symbols of this joy and the need to look to heaven in order to face difficult moments and rediscover serenity.
The artist died in Ravenna in February 2014 after a long illness.
His works are always visible in the "Bottega degli Angeli" in Porto Garibaldi.