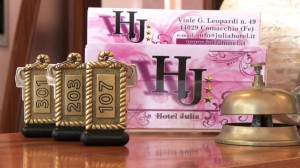 We proudly present our Hotel, a pink pearl nestled between the beautiful beaches and sea of Lidi Ferraresi and the water mirrors of the Valli dei Lidi di Comacchio, all within the charming Parco del Delta del Po, a UNESCO World Heritage site and a must-visit destination on the Adriatic Coast for nature lovers, sports enthusiasts, fun-seekers, birdwatchers, and foodies alike.
We are located right in the center of Lido degli Estensi, where the renowned fashion promenade of Viale Carducci begins and just a few meters from the sea.
Hotel Julia, an ideal starting point for excursions to the Valli di Comacchio or the pine forest, represents the perfect fusion of hospitality and the pleasure of experiencing a perfect vacation, a symbiosis between relaxation and entertainment.
Our rooms are creative, evocative, never dull, full of charm. Every corner will be a breathtaking discovery with colorful and unique frescoes that also decorate our rooms. We will amaze and delight you with our abundant and imaginative breakfasts, featuring sweet and savory buffets and many pleasant surprises.
Hotel Julia is waiting for you to make your unforgettable seaside vacation a reality.
We have a fantastic offer for you if you book directly from our website: you can enjoy a 40% discount on the rental of a beach umbrella and sunbed. We wish you a great stay at Hotel Julia.